I guess you can say that Keegan is my wingman. Over the past 27 months I definitely notice aspects of his personality that are similar to mine. Demanding. Particular about what he wants. Wants things immediately. Or is that all toddlers? Wait a second... do I actually have the personality of a toddler? Teehee. Seriously now, his personality is similar to mine, down to what he says and how he says it. But he does hang out with me A LOT. And it shows because everything is, "Mommy, Mommy, MOM-MEE!!!" Even if Kevin is inches away from him and I am across the house, he will call me. So it is a good idea to implement Daddy Day.
It started with Busch Gardens. Kevin has a pass and I don't. So rather than me buying a pass and Lochlan going to an amusement park that he can't do anything at - Kevin and Keegan went alone and had a blast. More recently, I was attending a baby shower for my friend Nicole. (Hi, Nicole! Had a blast!) I took Lochlan with me, since he is pretty portable at 8 months old. But Keegan would have been a toddler terror and Kevin would have been bored, so Keegan and Kevin teamed up for another edition of Daddy Day. They went to MOSI for the Dinosaur exhibit and afterwards they went to see Wall-E in the theater.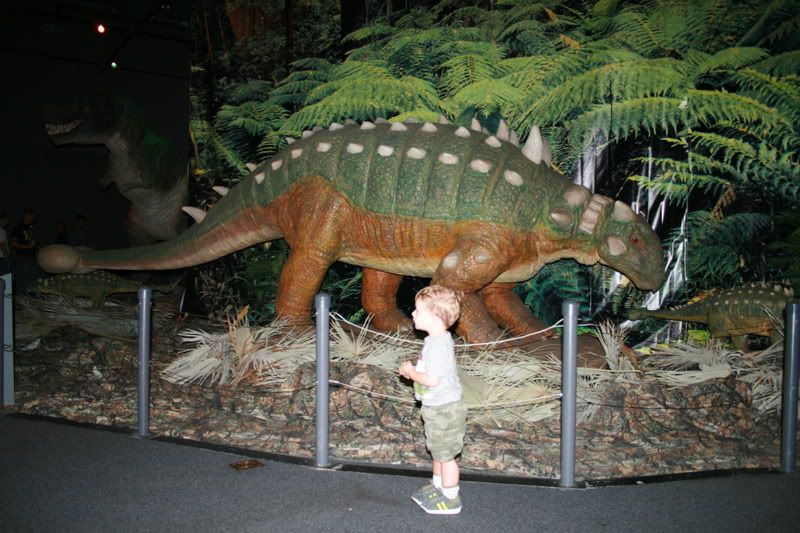 Funny thing... Kevin says Keegan is super quiet and whispers rather than talks when they hang out just in a twosome. And anyone who has seen me with my boys knows that Keegan is LOUD LOUD LOUD. And Kevin thinks when Keegan is with both him and me, that he is "normal". I don't know, has anyone else ever experienced this? Where the toddler almost has multiple personalities depending on who he hangs out with?
Anyways, Daddy Day was a success, as always. And I think Kevin is looking forward to chilling with just Keegan again. And I look forward to just hanging with just Lochlan, too. Sometimes its tough being the little brother and having to share attention. But when it is just him and Mommy he gets held the whole time and double the kisses.